STORIES OF FAITH: A LIFE OF DISCIPLESHIP FOR CHRIST
Jacob Jones brings invaluable experience to new role at FBC Jenks
Special to FBC Jenks
August 30th, 2023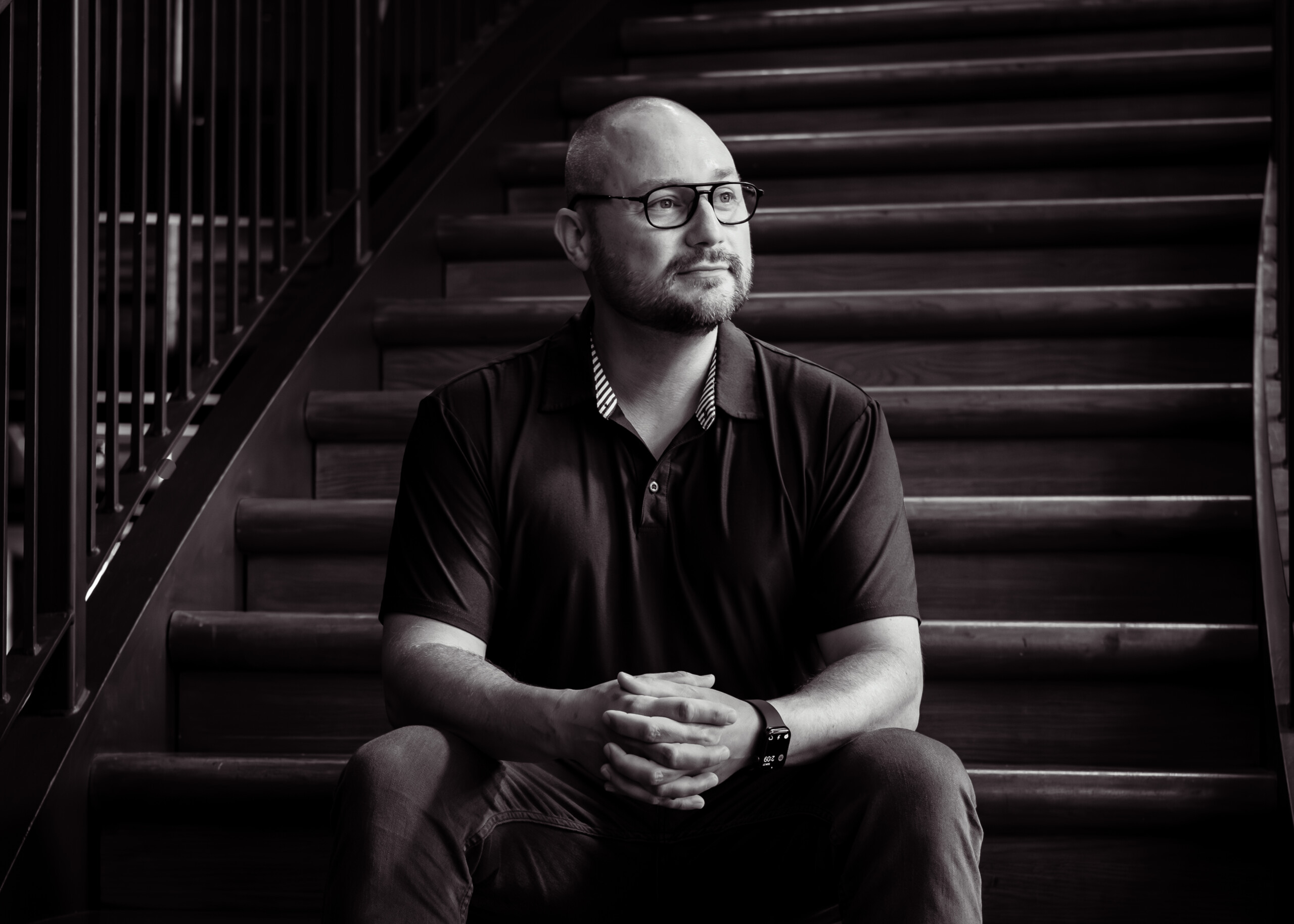 First Baptist Church Jenks recently welcomed a new family, not only to its congregation, but to its staff with the hiring of Jacob Jones as the new discipleship pastor.
Jacob and his family have been living in Jenks roughly for five years. Previously he was on staff at Battle Creek Church in Tulsa at the midtown campus. He started there as the children's pastor, but after several years transitioned into a new role as connections pastor, which is a similar role to the one he will be doing at FBC Jenks.
Jacob's wife, Kristin, who was an elementary school teacher received an opportunity to teach at Jenks West Elementary. They decided to purchase a house in Jenks, which would make getting their three school-aged children to their different activities a little easier.
When the opportunity presented itself to join the staff at FBC Jenks, Jacob jumped on it.
"The more I got to know (Lead Pastor) Cody (Brumley), I quickly realized he just gets it," Jacob said. "He understands the Gospel. After meeting the other staff members, I knew it was a special place. Cody and the team have such a strong love for the Lord and love God's people, and they have a strong appreciation for preaching God's Word. FBC Jenks is one of the pillars of this community."
Jacob said he is looking forward to hearing how God has worked in people at FBC Jenks.
"A lot is being done right," Jacob said. "You don't make the difference this church has made over the years without that already in place. What Pastor Rick (Frie) has been able to lead the church through in his two decades is amazing."
As he prepares for his new role, Jacob is eager to learn about the strength of the church.
"One thing I have talked with Cody about is starting discipleship groups at some point," Jacob said. "We have our small groups, which are amazing. Discipleship groups are even smaller. It is a group of three or four people taking a deeper dive into the Word and holding each other accountable."
Jacob's journey to FBC Jenks and throughout the ministry began at a young age. He accepted Jesus Christ as his Lord and Savior when he was in kindergarten. He was born and raised in Spiro and attended church ever since he was old enough to go. His parents were devout believers and were heavily involved in their church.
---
"For the longest time, I was trying to understand how my story made sense," Jacob said.
---
"It wasn't that exciting testimony or anything like that, but overtime, I realized once I eventually had kids, this is the testimony I want my kids to have. All testimonies are awesome because God saves us all equally. God's faithfulness shined through my parents, and they made sure their children were brought up the right way."
From the time he was a young boy, Jacob always told his parents that he was going to be a preacher when he grew up. He watched his dad continuously study the Word and teach Sunday school classes, not only at their church but at the local nursing home from time to time.
As he was preparing to attend to college, he had decided he wanted to pursue a degree in business. He attended Carl Albert State College in Poteau for two years and then transferred to the University of Arkansas at Fort Smith.
Going to college was the first time in his life that he saw and heard different things about different world religions and different ideas other than the ones he had grown up hearing from his parents and Sunday school teachers.
---
"It started making me think a little bit," Jacob said.
---
"God made me a curious person. Growing up, I was sheltered, and I really had no clue about all the ideas and other forms of religion across the globe. I asked myself, 'do I believe what I believe because this is what my parents and Sunday school teachers have taught me, or is this actually what I believe as truth?' I really investigated my faith.
"If you have questions about your faith, that is fine, God is not offended by it, but don't be lazy about it. Keep digging and at the bottom of the dig you will find the truth. A lot of people get stalled out and get lazy in their search. I try to encourage people to dig deeper and develop a deeper understanding of God. That is when I really started to learn more and came to realize at 21 that I was supposed to serve in the church."
After making this decision, Jacob thought he needed to drop out of school and start attending seminary, but a good friend from the church he was attending stopped him and said he should finish out his business degree before pursuing a degree from a Bible college. Jacob heeded his friend's advice and earned his bachelor's degree in business from U of A, Fort Smith.
During the time he had made the decision he wanted to pursue a career in the ministry, he met Kristin at U of A, Fort Smith. They got married toward the end of their college years.
Jacob's first ministry position was an internship at Grand Avenue Baptist Church in Fort Smith while finishing up his business degree. He did that for roughly two years while living and working in Baptist Collegiate Ministry on campus as well. It was during that time he truly got a sense of what it would be like working in a church.
Several months later, he accepted a student ministry position at the First Baptist Church in Pocola. Kristin got a job as an elementary school teacher, so the newlyweds were trying to figure out marriage and working in the ministry at the same time. After several years in Pocola, Jacob and the senior pastor decided to start a church in Poteau.
"We wanted to reach as many people as possible in the community," Jacob said. "I was in my mid-20's at that time and I didn't know a whole lot. I was kind of the utility pastor and that is where God really instilled in me more of a passion for discipleship. When I look at that time, that is where I started to learn how to run small groups and help people come together. We served there for three years and loved it."
Also, during his time in Poteau, he started taking classes at Southern Baptist Theological Seminary. Following their time in Poteau, Jacob had an opportunity to take his family to Tulsa be a part of the Living Oaks Baptist staff in student ministry.
Kristin was pregnant with Eva, their oldest child, at the time. After several years at Living Oaks, Jacob decided he wanted to step out and take more of a leadership role, so he took a job with Southside Baptist Church in Tahlequah as the senior pastor. The joke became every time Kristin would get pregnant, they would move churches, as she was pregnant with their second child, Judah.
During his time in Tahlequah, he completed his coursework at seminary and earned his master's degree.
---
"It was a crazy busy time with two kids and figuring out how to lead a church," Jacob said. "I loved being there. We wanted to reach as many people as possible."
---
Early on their relationship, even before they were married, one of the topics Jacob and Kristin discussed was the possibility of fostering and/or adopting. As their time in Tahlequah was coming to an end and they were preparing to move back to the Tulsa-area, the couple decided it was time to start looking into it with Eva being four and Judah two.
"My relationship with Christ is and will always be my top blessing," Jacob said. "My family is next and one of the things we have always tried to do is open our doors for people to join our family. We started the foster care process in 2017. We got a call not long after and were asked if we would be willing to take a 10-month-old boy. That is when we got Ben. For the first year or so, we didn't think we were going to adopt, but we became aware this could be a permanent situation and we were so excited about it. The adoption process was not an easy process, but we finalized the adoption a little more than a year ago."
Jacob said he humbled and excided about the opportunity for his family and him to serve at FBC Jenks.
"My family was already in the Jenks community, so to be able to align our family with going to church in Jenks and working at a place like FBC Jenks is amazing."