STORIES OF FAITH: A LIFE OF TRUSTING IN GOD'S PLAN
Through prayer, Charles and Sarah Hofer were able to navigate a path of pain and heartache
Special to FBC Jenks
July 20th, 2023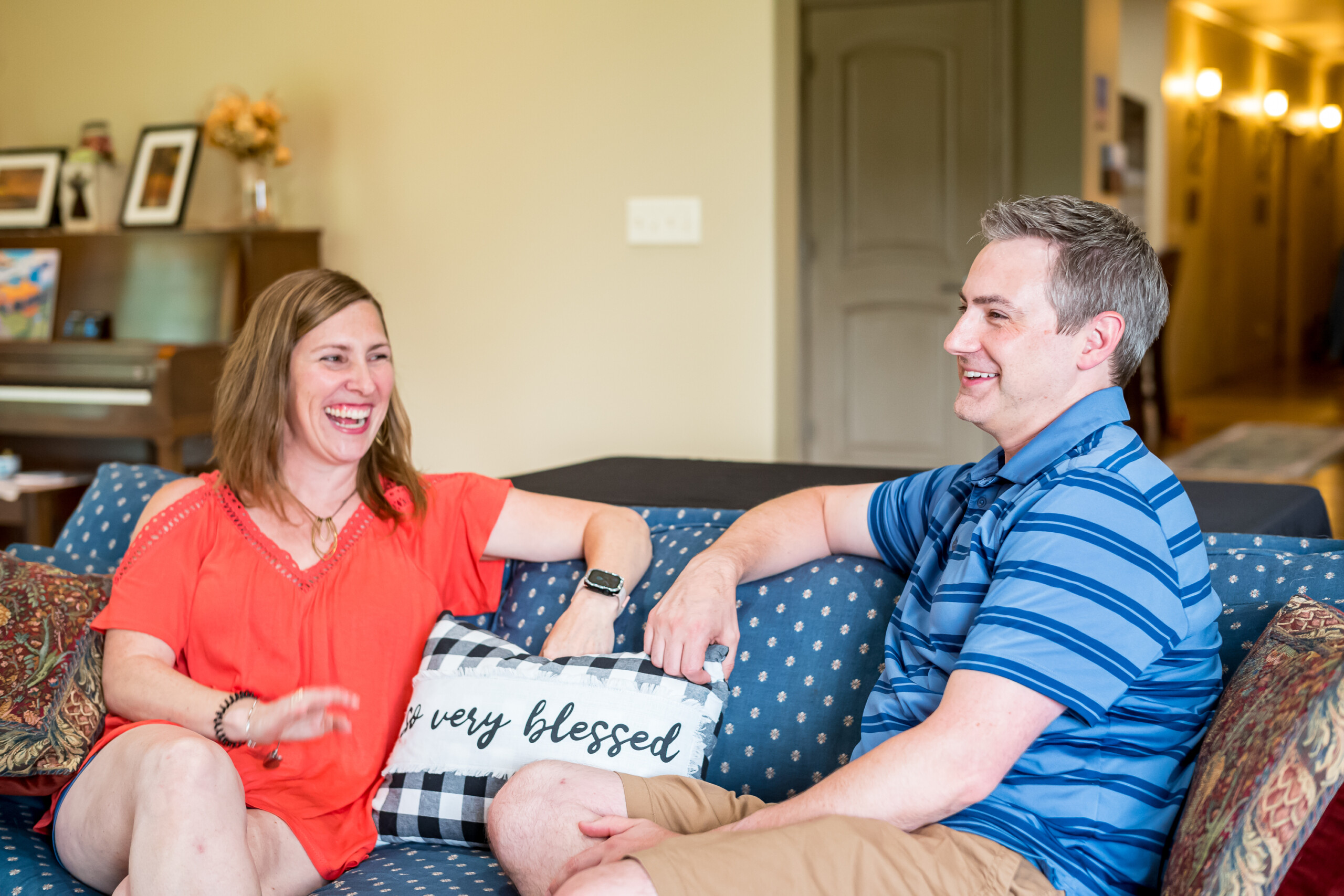 Charles and Sarah Hofer welcomed their twins, Daniel and Kaylee, to the world in November of 2022.
Daniel and Kaylee had a due date towards the first part of December, however with multiples, you typically don't make it to the due date.
Sarah's doctor scheduled a C-section for the end of November, but during a regular check-up several weeks before, Sarah's blood pressure was high and the doctor felt it was best to move the C-section to that day.
Even though their bags were packed, that was the last thing they expected to hear. Following a brief moment of shock, the couple called their parents to let them know it was officially baby day.
The Hofers had gone into their appointment at 11 a.m. and at 3:57 p.m. Daniel and Kaylee arrived, both within the same minute.
---
"I could hear Daniel immediately and I started crying," Sarah said.
---
"Kaylee took longer to cry, which was pretty shocking, but the first time I got to see them was with Charles holding them both. What an incredible moment."
At that moment their lives changed forever, but the path to that moment was one of heartache, pain, anger and an incredible faith in God.
Charles and Sarah had both grown up in Christian homes and attended church regularly in their childhood years. Charles grew up in South Dakota, while Sarah moved around quite a bit, as her father was in the oil and gas industry.
Charles made his way to Tulsa after high school when he chose to attend Oral Roberts University. Sarah had lived in Tulsa several times as a child, but moved back for good when she was in her 20's.
A year after Sarah moved back to Tulsa, her parents moved back as well. Both her father and mother were originally from the Tulsa-area.
The couple met through a singles' group. They both had friends who invited them to join. Sarah had come to a decision for herself that she was going to be okay not ever getting married and having children, but God had different plans.
The first time she met Charles, Sarah began to wonder if he just might be her future husband. They officially started dating and a year into their relationship, Charles proposed and then nearly a year later, they were married on a hot August day in 2013.
Sarah had started going to First Baptist Church in Jenks in 2008 when she moved back to Tulsa. Charles began attending just before the couple was married. Charles ran the sound in several churches in the Tulsa-area and wanted to continue to do that and he got that opportunity at FBC Jenks.
When it came to wanting children, the Hofers decided to wait five years until they would start trying.
"Then we woke up one day and realized how important it was for us to have kids. It is so important to have a legacy to pass on to your children, not with things, but passing our relationship with God to them."
---
"We both went into the marriage not sure if we wanted to have kids," Charles said.
---
The couple first got pregnant in 2019 and suffered a miscarriage several weeks into the first trimester. They got pregnant again in 2020 and 13 weeks in, suffered their second miscarriage. The third miscarriage came in 2021.
"It didn't take us long to get pregnant the first time, so it never crossed our minds that we wouldn't have a baby," Sarah said. "I had always had this feeling on my heart that I was going to have multiples, so we went into this process thinking that was going to happen. Of course, we would have been okay with one, but we never prepared ourselves for none."
The second time was the most difficult for Sarah.
"To make it 13 weeks and to not have an answer as to why," Sarah said. "You can see where God's plan is going, but the other part is like, why? Why does it have to be like this? We knew we were headed towards a fertility doctor. Charles got to a point where he said, we aren't doing this anymore."
Sarah was conflicted during that time in dealing with her pain, both mentally and physically.
"It was a weird feeling," Sarah said. "For me to be angry at God meant I was not okay with His plan. I just had to choke it down and swallow it. I was hurt, but I would just pick myself back up and say okay, let's do this again."
At one point, Charles and Sarah developed a back-up plan. They were going to sell everything they owned, buy a camper and travel the world if they didn't have any children in five years. This plan served as a distraction for the couple as they were going through the process.
The Hofers found out they were pregnant with the twins early in 2022 after Sarah was dealing with some strong pregnancy symptoms. Typically, you don't have an ultrasound until the seventh week, but due to Sarah's symptoms, they went in a week early and as soon as the screen was pulled up, the doctor said, "you have twins".
"I just had to tell myself that whatever God had planned was better than anything I could have imagined," Sarah said. "I had already seen it in so many things in our life. I knew He had His plan."
During the pregnancy, the doctor wanted to see Sarah every two weeks because she was deemed a high-risk pregnancy. That is exactly what Sarah needed.
"I would be fine until the day before the appointment and then I would start freaking out," Sarah said. "My blood pressure would go up and when I would get there all I wanted to know was if they were still alive. That is how it was until my pregnancy app told me the babies would be viable if they were born today, which was the 27th week."
It was a difficult time for Charles, as he watched his wife go through such struggle, but he always kept faith in the Lord.
"I didn't like seeing her go through that," Charles said. "Prayer was huge for me. There were hard times. It was hard to see that process and not have any fruit from it. Sarah was reassuring me for a while. She kept saying this is going to happen."
Charles' parents moved down to Tulsa from South Dakota to help, which was much needed and a major blessing.
On top of having both sets of grandparents in the same city and ready and willing to help in any way they could, Charles' company had recently doubled their paternity leave from six to 12 weeks and then they gave Charles another two weeks since he had twins.
---
"Looking back on everything now, there are several things from a timing perspective where you can really see how God's plan was working," Charles said.
---
"He allowed us to see that and it calmed us. It was like He was giving us little nuggets to help us get through it. One thing that sticks out to me once Daniel and Kaylee were born is, you truly don't get the perspective of how God sees His children until you have a child and that is huge to me."
Sarah said the first eight months have been a blur.
"They are amazing. I still look at them and think, God made you through me. The days are definitely long, but the years are short. There have been moments when I have just broken down. Everyone is hungry, everyone is crying, everyone is pooping and tired, but then you realize it will pass. We couldn't have done it without so much help."
Sarah said the best thing people could do for her when she was going through all the hard times was to just be available.
"Knowing that there are other people out there who have gone through it," Sarah said. "So many people were there for me, and understood what I was going through. They would offer advice, but the biggest thing they would say was ask me, how can I pray for you? What do you need? Knowing that if I needed to ask or wanted to talk about it was such a blessing from the Lord during tough times."
Prayer was the key to getting through some of the most challenging times.
"There were times where it was hard to pray," Sarah said. "But there were times that is all we could do along the way. I think through prayer is where God gives you some answers and some of the little nuggets along the way to help you get through it. We are told to pray, but you have to listen. If we are constantly talking, we don't ever have the chance to hear Him."
Charles added that family has been a big help along the way.
"For us to have a lot of family around and available, that was great for us," Charles said. "I know that is not always possible for everyone, but that was huge for us. From the first baby until the twins, the commonality was prayer, family and church support. It's important to not isolate yourself."
Sarah said it is vital to talk about it, not just with God, but other people as well.
"It allows you to heal. The more I was able to talk about it, the more I allowed myself to heal."
In their living room, they have newborn photos of Daniel and Kaylee with the same verse on both frames …
"For this child I have prayed, and the Lord has granted me the desires of my heart." – 1 Samuel 1:27