STORIES OF FAITH: A LIFE OF BEING FAITHFUL TO THE LORD
Christian Moore's service and faithfulness lead him to FBC Jenks
Special to FBC Jenks
October 12th, 2023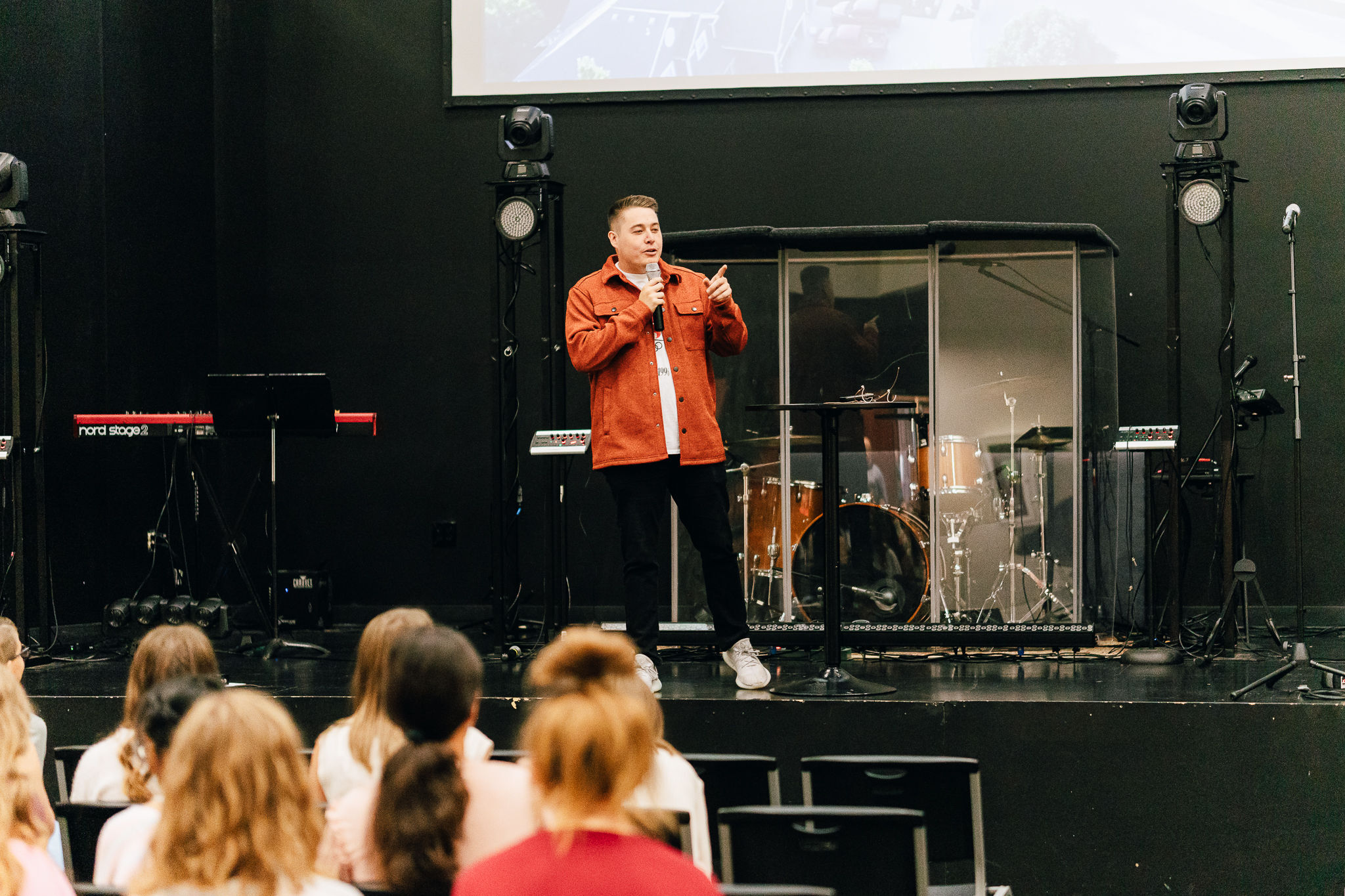 Christian Moore was officially hired as the new student pastor at First Baptist Church Jenks this past summer after three years serving as a part-time associate in the student ministry.
Christian started attending FBC Jenks in the fall of 2019. He had developed a relationship with Executive Pastor Drew Wright and after Christian had decided to leave his current role as Student Minister at Foundation Church in Sapulpa, Drew encouraged him to come to FBC Jenks to attend church and help in the student ministry while he looked for his next job.
It didn't take long for Christian to feel at home at FBC Jenks.
"Drew asked me what I was wanting to do, and I said I don't know I just love it here," Christian said. "He said he had been talking to (pastor) Rick (Frie) and we want to get you on staff here. A lot of staff changes were taking place at that time with (pastor) Cody (Brumley) leaving for Little Rock and Drew moving to the executive pastor role."
Brandon Trentham was hired to replace Drew as student pastor, while Christian was hired to be the associate in the student ministry in June of 2020.
---
"I was able to preach to the junior high kids on Wednesdays and teach some Sundays," Christian said.
---
"I met a ton of great people and loved it here from the start. It just felt like home, and it felt like family. I was in that role until this past summer after Brandon decided to move on from the student pastor position."
Also, during that time, Christian worked part-time at American Tees in Glenpool, which was owned by Randy and Cheryl Fulbright, who are also members at FBC Jenks.
"There were times during those first few years at Jenks where other jobs or full-time positions would open and every time I would pray to the Lord and get an overwhelming peace that God has me here for a reason," Christian said. "It just gave me a peace about staying at FBC Jenks and God told me if you stay here and be faithful and serve, He will honor that. I remained faithful and served here and got to do good ministry with the students and whenever that time came, the Lord was faithful. I was able to step in as student pastor and have loved every minute of it."
Christian grew up in a Christian home and at age 7, his older brothers had accepted Christ as their Lord and Savior and were preparing to get baptized. Christian started to ask his parents what was going on and they explained it him. He decided then he wanted to accept Jesus as his Lord and Savior and he got baptized with his brothers on the same Sunday morning.
"I loved being at church," Christian said. "I was always there. I knew Jesus loved me and I knew I was supposed to follow Him, but as a 7-year-old, looking back it, I didn't truly know what it meant to follow Jesus. I had faith in Jesus, but not a relationship."
As he entered the summer before his freshman year in high school, he was attending camp at Falls Creek when they asked if anyone wanted to come down to the front and give a message about revival and what a relationship with Jesus meant. That stuck out to Christian, and he decided to go down front and made the decision to dedicate his life to Jesus.
---
"I wanted to walk with God on a daily basis," Christian said. "That is where my relationship with Jesus got serious and started really doing things that brought me closer to Him rather than just believing in Him."
---
Christian grew up in Tulsa and attended Garnett Road Baptist Church until he graduated high school. He was heavily involved with his youth group and led worship for the student ministry.
"I loved being there," Christian said. "Part of my story includes my parents getting divorced when I was a kid, so the church was always a safe place with people I could rely on and people who would care and love me. I had good male leadership from the church that showed me how to walk with God and how to be a man of God."
After high school, Christian went to college with the idea he was going to get a degree in sports medicine and volunteer at the church. As he began his journey to a sports medicine degree, he didn't have a peace in his heart about it, so he spent a lot of time seeking council and praying. He considered going into ministry full time but didn't have a big moment in his life where the Lord was calling him to ministry.
"One of the guys in my life at that time gave me some good council," Christian said. "He told me if you want to do something that is pleasing to the Lord, and you know it is something you can do, you don't need to have this big moment where you can hear God's voice from the mountain top telling you to do it. That is God's voice in your heart telling you to do it."
One night at church while he was worshiping, a lady came up to him and said that her dad was looking for a student minister and had asked her if she knew anyone. She told Christian that he came to mind when she thought about who she knew.
"That was God confirming that He had given me a passion for this and peace about it, so I knew that was what God wanted me to do," Christian said. "I don't think everyone needs that. I think God could see my doubt in it, so He sent that to me. If you have a passion for doing something that glorifies God, you don't have to a big calling moment. The passion is your calling."
The next week, Christian started sending emails to every healthy Baptist church in the Tulsa area he knew of about potential internships. Nearly a month went by with a few responses saying they didn't have a position like that available. Christian was starting to get discouraged about it, then he received a call from a pastor at First Baptist Church in Owasso.
"I didn't know anyone there and when they called, the pastor said we are calling you about the email we received about your interest in the internship position," Christian said. "He asked me if one the other pastors at the church told me about the position and I said no, the Lord just told me to send emails to churches to find a place to work. He said this is a God thing because he had just been given permission to hire an intern on a Monday and then my email came on Tuesday."
The Lord put it into motion and Christian officially began his life in ministry at age 20 as the student ministry intern at First Baptist Church in Owasso and in only his second month on the job, he led a mission trip to Texas.
Christian loved his time in Owasso. He was there nearly three years and then connected with Drew through a Bible study Drew was leading. They became friends and Drew began to mentor Christian and connected him with the open student minister position at Foundation Church.
---
"That was my first official pastor position," Christian said. "I was there about two years while the church was going through a rebuild. There were only about five students in the ministry, so I really learned a lot about building it from the ground up. I gained a lot of valuable experience there."
---
Christian didn't have a lot of time to develop a relationship with Cody before he left for Arkansas, but when Cody came back to Jenks and became the lead pastor, he and Christian hit it off through their love for discipleship.
"We both have a big passion for discipleship, which is something I am very passionate about," Christian said. "Especially for teenagers. We need to have discipleship for teenagers. If they aren't growing in their relationships with the Lord, it won't mean anything, especially when they leave. Cody and I bonded over that quickly."
Under his new role, Christian is responsible for the student ministry with more than 100 teenagers. He loves the opportunity God has provided.
"We have some kids as young as 12 and as old 18," Christian said. "No week will ever be the same in student ministry. This morning at 8 a.m., I went to See You at the Pole, last week I taught FCA for the football team and the week before that, I went to an orchestra performance to watch a student. It means a lot to them to invest in them and their lives."
Christian wants discipleship to be the focus in the student ministry and that starts with teaching them to invest in a relationship with each other and invest in a relationship with the Lord.
"We need to help them understand how to walk with God and teach them how to show other people how to walk with God," Christian said. "This year, we did a word for the year, which is 'neighbor'. We want to focus on what it means to be a good neighbor and as a Christian, it means more than just inviting someone to church, it is making them feel loved."
As his students enter into their final years in the student ministry before moving on, Christian wants to create a culture where students aren't only being prepared for the challenges of the world after high school but are being prepared to share the Gospel.
"We don't want kids to be intimidated by going to college," Christian said. "It is an amazing opportunity for them. Usually, when you go to a college campus, that will be the biggest mission field you will ever have in your entire life. You are around thousands of students from all over the world who you can share the Gospel with. It is a great opportunity to share the good news of Jesus."
Since he started as the student ministry intern at First Baptist Owasso, Christian has seen his faith and walk with the Lord grow immensely.
"God has taught me so much," Christian said. "One of the things that stands out to me that God has taught me since I started in the ministry and is that you don't have make things bigger and better and more fun. I now believe in a crockpot ministry where you are slowly cooking versus a microwave type ministry where it is all about fun. Discipleship is our focus and showing the students the importance of knowing how to walk with the Lord."