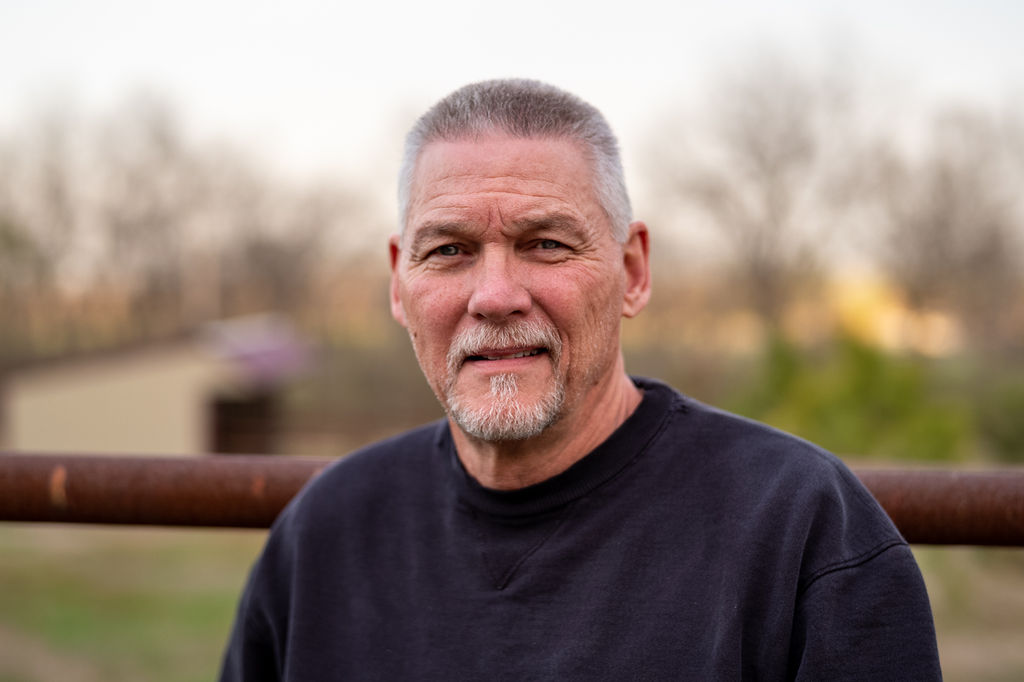 Bart Hoffman ran scared out of church 50 years ago, now he is a defender of the faith.

Bart Hoffman's life changed forever 25 years ago on a small country road in rural Oklahoma.
The year was 1998 and Bart, like he had done many times before, got into his truck after work and headed home on W 3900 Rd. between Claremore and Vera, where he and his wife Carole lived.
However, this drive would go a little different than the previous times. At age 38, Bart hadn't been inside a church since he was 13 and wanted nothing to do with church or Christians, but that wouldn't stop God on this day.
---
"I just felt this overwhelming desire to pull over onto the side of the road and my life has been different ever since," Bart said.
"God put a fire in me. He took a person that was completely turned away from Him and gave me that one opportunity to surrender and I did. I'm so thankful for that."
It had been 25 years since Bart had been in a church. When he was 13 years old, he experienced a traumatic incident that sent him running out of the church and away from God.
"(Following that experience) I lived a life that was less than morally acceptable," Bart said. "I was spiritually bankrupt, morally bankrupt, I wasn't necessarily a bad person, but I wasn't good by any stretch of the imagination. I was void of Jesus and I did not want one thing to do with the church."
After his transformation, Bart became ingrained in the Bible and in theology. He did a two-year Biblical studies track at Liberty University.
Every morning, Bart wakes up at 4-4:30 and reads his Bible for an hour to an hour and a half.
"I'm driven as hard as any 25-30 year-old to take the Gospel to a spiritually defunct and dying world, Bart said. "I'll use whatever means I can to do that. I'm thankful that God has chosen me as a vessel to stir thought and motivate and convict people."
---
I was living a life that was very violent in nature and something easily could have happened that would have ended my life and I would have spent eternity in hell because I was unredeemed," Bart said. "Everything since has completely changed my life and my direction, my purpose, my will, my meaning. I dove into the Word of God."
---
One of the avenues Bart uses to share his thoughts on what he's experienced in the Word is through Facebook. Every day, Bart will post about the passage he read that morning. He goes into detail on what he took from it and how it can apply to others in their everyday lives.
"I try to share something to stir thought emotionally with people," Bart said. "Facebook is a non-intrusive way to reach thousands of people. When I'm asked what apostle I am the most alike, I say I am probably more like Peter. I may argue with you or disagree with you, but I'll always be sharing the Gospel with you. I love to teach. I love to share the Gospel with people. I enjoy defending the faith."
Bart has been utilizing Facebook in this way since 2012, and has shared roughly 2,000 posts in that timeframe, but he said there are times through a certain Facebook feature, he will end up witnessing to himself.
"It's funny, Facebook will send you memories based on certain dates you posted something in the past and there have been times where Facebook would send me a memory and I would read something I posted in the past and it convicted me," Bart said. "I'm always looking for an avenue, always looking for an in to try and share something with people."
Bart said he has seen a lot of change across the world since he was saved, but none more troubling than how the Word of God is being spread.
"In the last 10-15 years, the Gospel has been so watered down. People would rather spend time in an uninspired book written about the inspired Word. What that does over a period of time is it lessens your sensitivity to sin. The Bible provides a sensitivity to sin. Sin is always sin and it always has been. It's direct disobedience to the commandments of God."
Bart and Carole joined First Baptist Jenks in 2018 and he has always appreciated how the pastors at FBC Jenks preach the Gospel.
"At this church, we have a group of pastors who truly care," Bart said. "They aren't afraid to use the word sin and they aren't afraid to use the word hell. I am a firm believer in iron sharpens iron. Just through the Biblical conversations we have, it's all about Jesus. It's all about the cross. It's all about God's saving grace."
One of the more difficult parts of the transformation for Bart was losing every friend he had at that time. Over the last 25 years, he has reconnected with several of those former friends and he has even seen a few give their lives to Christ and get saved, one in particular just before he passed away.
Throughout his career since he has given his life to Jesus, Bart said he always makes sure to share the Gospel with whomever he can whenever he can.
"It's only through the conviction of the Holy Spirit I do it. There are a lot of people in life I don't like, but I love their soul and I am doing what I feel like I am called to do and that is sharing the Gospel. I think that should be everyone's main focus. Be a living testimony. I'm not a perfect man, but I would prefer to be an imperfect man striving for obedience, then a perfect man resting in complacency."
Bart's "Go To" Verses
When Satan goes on the attack, there are a group of verses (King James Version) Bart always reads to help protect against the devil's wicked ways.
Psalm 1
"Blessed is the man that walketh not in the counsel of the ungodly, not the standeth in the way of sinners, nor sitteth in the seat of the scornful. But his delight is in the law of the Lord; and in his law doth he meditate day and night. And he shall be like a tree planted by the rivers of water, that bringeth forth his fruit in his season; his leaf also not wither; and whatsoever he doeth shall prosper."
Romans 12: 1-2
"I beseech you therefore, brethren, by the mercies of God, that ye present your bodies a living sacrifice, holy, acceptable unto God, which is your reasonable service. And be not conformed to this world: but be ye transformed by the renewing of your mind, that ye may prove what is that good, and acceptable, and perfect, will of God."
1 Peter 3:15
"But sanctify the Lord God in your hearts: and be ready to give an answer to every man that asketh you the reason of the hope that is in you with meekness and fear."