STORIES OF FAITH: A LIFE OF REDEMPTION FOR THE LORD, PART 2
Andrea Talley's experience in state prison opened her eyes and strengthened her faith
Special to FBC Jenks
November 7th, 2023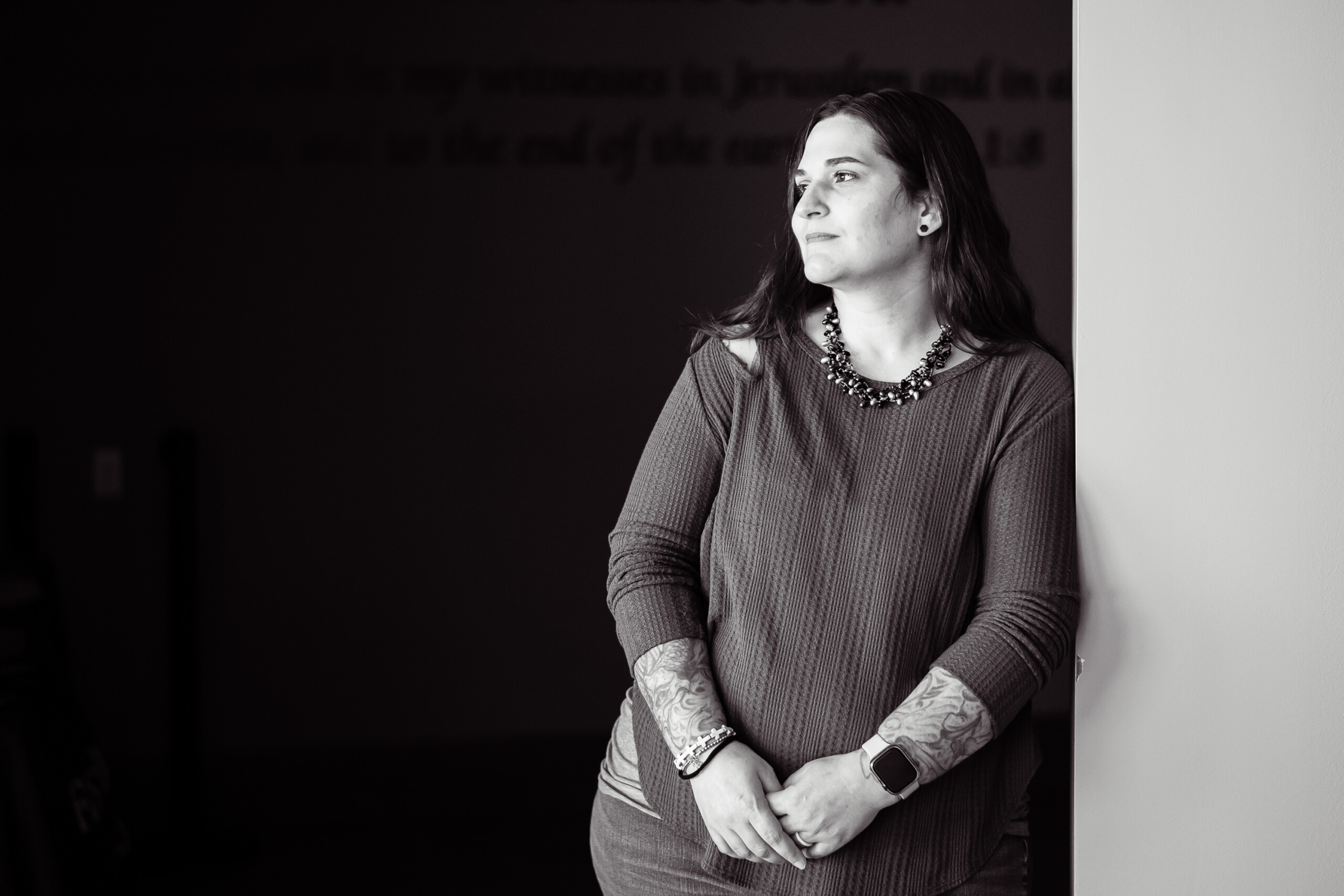 Nearly 19 years ago to the day, Andrea Talley stepped out of a state prison in Arizona, where she had been incarcerated for a little less than two years.
As she made her way back to Kansas City with her mother and baby daughter Allexus, Andrea's mind was racing with all thoughts on how she needed to get her life back on track and most importantly, re-ignite her relationship with Jesus Christ.
Andrea accepted Jesus as her Lord and Savior at a church camp when she was in middle school. At the young age of five, she was thrust into a tremendously challenging situation.
Her mother left her, her sister, and her father, who was blind, so Andrea became the "mom" of the house before her sixth birthday.
"We would walk to the grocery store and get enough groceries to last us a couple days," Andrea said. "It was not the ideal situation. My dad was partying all the time. He finally came to the realization that changes needed to be made, so he got us into going to church."
Her father met her eventual stepmother when Andrea was in sixth grade, and they are still married today. Her new stepmom had two children of her own, so they quickly doubled the size of their family. After moving out to the country to a bigger house, Andrea started to take her faith even more serious and that is when she became a Christian.
When she was 16, Andrea went with her church youth group to Dallas for a mission's trip and she quickly learned that she had a passion for helping people. However, she had started working full time and was starting to rebel herself.
"I was 16," Andrea said. "I got a car and had my independence. I thought I could do whatever I wanted to do. I got sneaky about when I would come home, and I started partying some. My dad caught me on a couple of things, so they decided I should go live with my mother, who had come back into my life several years before this."
Andrea didn't think she needed to live with anyone, so at the age of 16, she moved out on her own. She worked full time and went to school but wasn't being a kind and loving person to her family or herself. She had stopped going to church and became more focused on the world.
Andrea hung out with her sister and her close group of friends and then decided to move into an apartment right next door, so she could spend time with them every day. Within a few months, Andrea's sister had passed away from a car accident, but she continued to hang out with those friends and one eventually became her roommate. Her roommate asked Andrea to come with her to her hometown of Atchison, Kansas one weekend, and Andrea agreed to go. There was one suggestion from her roommate and that was to avoid her brother at all costs.
---
"She kept telling me that it wasn't a good idea for me to meet her brother, but I didn't listen to her," Andrea said. "He ended up coming back with us and staying for a while. Within a couple months, we started dating and we were partying a lot."
---
Her new boyfriend eventually invited Andrea to go with him to go see his father, who lived in California. Despite her roommate's pleas to not tag along with her brother on this trip, Andrea thought it would be harmless, so she went. It weighed heavy on her heart that he hadn't seen his father since he was 2 years old.
The young couple took a bus from Kansas City to Phoenix where they were going to stop and stay at her uncle's house. It was there the story went off the rails. Andrea learned quickly that her uncle was heavily into drugs.
"It was a bad situation," Andrea said. "While we were at my uncle's house in Arizona, we found out that another of my boyfriend's sister had gotten into a car accident and was in the ICU, so we decided we needed to get back home."
Money was tight, so they were trying to figure out the best and most cost-effective way to get home. They called family but the only offer to help came in the form of sending a bus ticket for Andrea, but she wouldn't leave her boyfriend stranded. Andrea's boyfriend asked her to take a walk with him one day and as they were walking, they approached a convenient store. It was at that point; their lives would forever change.
"He sees this lady walking by herself to her car and he went up to her and asked for a ride," Andrea said. "The lady agreed, but after we all got into the car, he pulled a gun on her. I was in the backseat, and I was frozen. I had no idea what to do. It was clear that he had this planned. He told the lady that we needed to get to Kansas."
Somehow the lady maintained her composure and devised a plan that would allow her to get away. She suggested that she drive them near to where her boyfriend lives, and she would get out of the car, and they could just take her car and she wouldn't report it stolen until the next day. Andrea's boyfriend agreed to this plan, so after the lady got out of the car, Andrea and her boyfriend were off to Kansas City in a stolen vehicle.
"I was terrified," Andrea said. "I kept thinking we are going to get caught. We stopped numerous times and changed out license plates."
When they arrived back in Kansas, several more decisions had to be made. One of those decisions was to push the car into the Missouri River, but roughly a week later, authorities drug the area of the river where they pushed the car trying to find the deceased body of someone who had recently fallen off a nearby bridge. After the authorities found the car, they took it to a tow place in Atchison.
It was during this time that her boyfriend's sister had gone to Arizona and had gotten in trouble with the law after an altercation with her husband on a military base. Andrea's boyfriend had told his sister about what had happened with him and Andrea, so to get out of trouble herself, she made a deal with the authorities and gave her brother and Andrea up on the stolen car.
Shortly following, the police came to their house and picked up Andrea and her boyfriend. More than a week later, they were extradited to Phoenix by two U.S. Marshals. It would be roughly two years until she got to go home again. After a long legal battle in the courts and facing up to 42 years in state prison charged with armed robbery with a deadly weapon, kidnapping with the intent to kill and theft of means of transportation, Andrea was sentenced to two years. Her boyfriend was sentenced to five.
On her 19th birthday, the first one while incarcerated, Andrea had an intake physical in Arizona and found out that she was pregnant.
"Looking back at it, I really didn't do anything to commit the crime," Andrea said.
---
"But now, I can see that God put me in that situation to change my life because I wasn't living right and going in a downward spiral."
---
Andrea had been leaking amniotic fluid for nearly 10 days by the time they took her to the hospital. It was there they found out her baby was in distress, and she needed to have her immediately.
"There were two correctional officers in the room with me, and they were carrying a wanted poster, which they kept putting in front of my face in case I had any ideas of escaping," Andrea said. "They kept coming over to the bed to see what was going on. My wrist and ankle were cuffed to the bed, and I was denied pain relief, privacy and respect throughout labor and delivery. It was not a good experience, but I wasn't going to let them take the joy away from me of having a baby."
Once Allexus was born, they informed Andrea she had 24 hours to have someone from her family come and pick her up or she would be given to the state of Arizona. Andrea's mom had already made the trip from Kansas City to Arizona in preparation of the baby coming, so she was able to get to the hospital in time to get Allexus.
Both Allexus and Andrea were in the hospital for five days, because Allexus was in the NICU. Andrea was in a guarded area unable to hold or see her. One of the nurses snuck a photo of Allexus to her and a guard allowed her to keep it upon her return to prison. Andrea still treasures that photo today.
"They sent me back (to prison) and my mom took her and then brought her to the prison for a visit before they went back to Kansas City," Andrea said. "We got to have a special visit for two hours and I was able to just sit and hold her. My mom would send me pictures and talk to me over the phone and was able to send me cassette recordings."
Andrea's mom and Allexus came back to Arizona to visit her when she was just four months old, but that would be the last time she would see her baby before she was released.
"I was going to get out right after she turned a year old," Andrea said. "I just kept my head down and stayed to myself. I read my Bible and wrote letters. It helped me grow a lot. It was during that time God had put it on my heard that I wanted to know people's stories and to help people. I was able to do some healing with my dad and my grandma."
When Andrea was released from state prison, she spent three months on parole with her mom in Kansas City. Allexus' dad was still several years away from getting released, but Andrea wanted her daughter to have a mom and dad who were married, so once her parole was complete, she decided to go to Arizona and marry her boyfriend while he was still in prison.
Andrea spent the next several years working and setting up a life for her and her husband once he got out of prison. When Allexus was four years old, he was released and came home to Kansas City to be with his family. Andrea wanted to add to their family, so nearly a month after he was out of jail, she was pregnant with Ajadealyn.
He had nine months of parole and was mostly well-behaved during that time, but once his parole was up, he started to fall back into his old ways. He started to get violent, so Andrea decided it was time to get away from him.
---
"I just started thinking, how do I get out of this situation," Andrea said. "I had a friend at work who was extremely helpful. I opened up to her about what was happening, and she was willing to help. Probably the biggest wakeup call I got was from Allexus one day when I was taking her to daycare and she said, 'Mommy, what is going to happen to me when daddy kills you?'. That rocked my world. I left him that day. I had no idea she knew what was happening in our home."
---
There were multiple threats from her husband, and one late night, she received a call from her husband's mother telling them get out of the house. He had been staying with his mother in Texas and had made threats of killing Andrea and taking the girls before leaving his mother's house six hours prior.
Andrea eventually was able to move, so he wouldn't be able to find them. She got a different car and changed her phone number.
"It took over a year just to get him served with the divorce papers and took about three years total to get divorced," Andrea said. "I was able to hire a lawyer who helped us a lot. he argued that more things needed to be brought into the divorce to protect us. We were able to get a lifetime restraining order on him for me and the girls. His rights were terminated."
Andrea was trying to move on with her life, as she got a job working at the warehouse for Quik Trip and that is where she met her future husband, Ryan. Andrea was leery about getting back into a serious relationship, but everything felt right, so trusted the Lord throughout the process.
Shortly after they moved in together, Andrea received a promotion and started to travel more to the different markets. That is when she first came to Tulsa and she and her family made the decision to leave Kansas City and move to Tulsa … where God became the center of their home.
This past year, there has been a lot of healing and drawing closer to God. Andrea and Ryan were able to finally get married and are continuing to grow in their relationship with each other and God.
"I haven't shared this story with more than a handful of people for 19 years, out of fear of my ex-husband finding us and the judgment of others," Andrea said. "Through prayer, others prompting and God laying everything into place, I am finally ready to share and was also able to do so without much fear or emotion."